Honoring Memories: The Art of Flag Display Case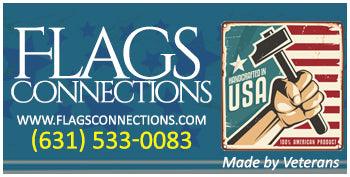 Honoring Memories: The Art of Flag Display Case Manufacture by Flag Connections
*Introduction*
In times of celebration or mourning, flags play an essential role in representing our deepest emotions and connections to a cause, nation, or a beloved individual. As such, it is crucial to preserve these cherished symbols in a respectful and dignified manner. This blog post delves into the world of Flag Connections, a leading manufacturer of flag display cases, where craftsmanship and passion come together to create beautiful and meaningful pieces that honor the memories of those we hold dear.
**1. Unveiling Flag Connections: A Tradition of Craftsmanship**
Founded with a vision to honor and remember those who served their country or made a significant impact in our lives, Flag Connections has been a pioneer in the field of flag display case manufacture. With a foundation based on patriotism and respect, this family-owned business has earned a reputation for its dedication to quality craftsmanship and personalized customer service.
2. The Art of Creating Flag Display Cases**
Each flag display case is meticulously crafted by skilled artisans who take immense pride in their work. Combining traditional woodworking techniques with modern design elements, they ensure that each case is not only visually appealing but also durable and functional.
3. A Wide Range of Customization Options**
Understanding the importance of personalization, Flag Connections offers an array of customization options. From the choice of premium wood to the type of finish and additional inscriptions, customers can tailor their flag display cases to reflect the unique story of their loved one.
4. Honoring Heroes: Military Flag Cases**
For the brave men and women who dedicated their lives to serve the country, Flag Connections offers military flag cases. These meticulously designed cases elegantly display the flags of fallen heroes, honoring their memory and sacrifice.
5. Memorial Flag Cases: Preserving Memories of Loved Ones**
Losing a loved one is never easy, but preserving their memory in a memorial flag case can provide comfort and solace. These cases offer a dignified tribute to the departed, allowing family members to cherish their memory for generations to come.
6. Flags of Honor: Sports and Special Occasions**
Flag Connections goes beyond military and memorial flag cases. They also create stunning cases to preserve sports team flags, flags used in special events, or any cherished flag with sentimental value.
7. Supporting Communities and Causes**
Flag Connections believes in giving back to the community and supporting noble causes. They actively participate in initiatives that honor veterans, support military families, and promote patriotism.
Conclusion
Flag Connections embodies the essence of honoring memories through their impeccable craftsmanship and commitment to creating flag display cases that stand the test of time. By preserving the legacy of heroes and loved ones, their work serves as a symbol of gratitude and appreciation. Whether it's a military flag case, a memorial flag case, or a personalized display, Flag Connections ensures that each case tells a unique story of courage, sacrifice, and love.
If you seek a timeless and meaningful way to preserve the memories of those who have touched your heart, consider Flag Connections—a beacon of craftsmanship and compassion.