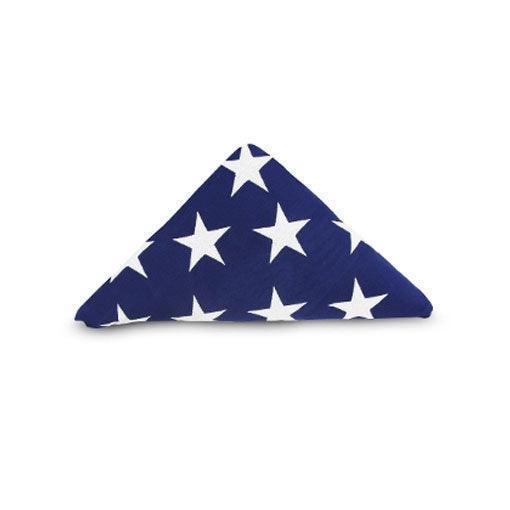 American 5x9.5 Flag
Flag For Flag Display case 5ft x 9 1/2 ft Cotton
Standard American flag used from retirement/memorial of US forces veterans. This flag is also known as a burial or internment flag
Top quality cotton USA flag. Made from densely woven heavy cotton fabric, with rich vibrant colors. These are the most attractive flags for indoor display. These flags have sewn stripes and embroidered stars. They are not designed for use outdoors. Made outside of the US.

We also have cases of these flags

for flag display cases Click Hear

For instruction on "How to Fold a Flag to fit a flag display case" Click Here

* that flag is not coming free-folded.
For Military Service Medallions in Solid Brass Click Here
 Orders are usually shipped out within one business day to places within the USA and Canada.
Please see below what a few of our clients used as the text for the engraved nameplates!
All plates are laser engraved
And come with gold lettering and a black background.
It is all done according to the military standard, with military fonts.
The nameplates will come with a double side tape, for your convenience – so you can easily attach it to any flag case.
All nameplates are shipped within the same day.