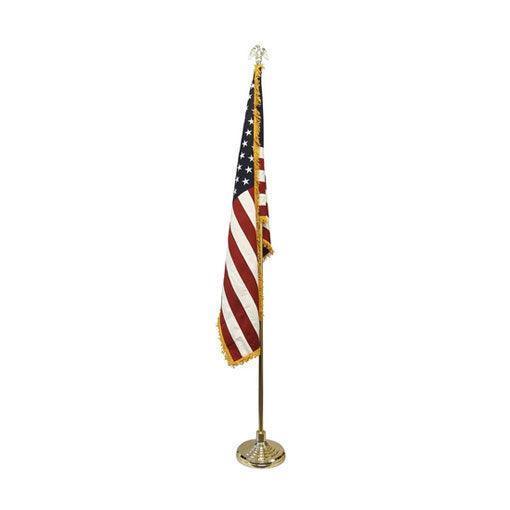 Indoor American Flag and Flag Pole Kit
American flagpole Kit

This low-cost indoor American flag and pole kit looks as nice as the standard kit but the flag is of a lesser quality. This impressive US indoor flag kit will look great in your business, school, church, courthouse, or home. This a good quality kit. We sell so many that we get a great deal, so we are passing the savings on to you. Some parts may be made overseas.
Features:
Imported cotton indoor 3ft x 5ft American flag in vibrant colors
Embroidered stars
Sewn stripes
Gold rayon fringe
5-inch gold eagle pole top
Adjustable gold anodized aluminum pole (6ft to 9ft)
Unweighted high gloss gold finish ABS floor stand
The stand can be filled with water or sand
Don't forget your flag spreader to ensure a proper display of your new flag (Flag Spreader Sold Separately)
 Orders are usually shipped out within one business day to places within the USA and Canada.
For Military Service Medallions in Solid Brass Click Here