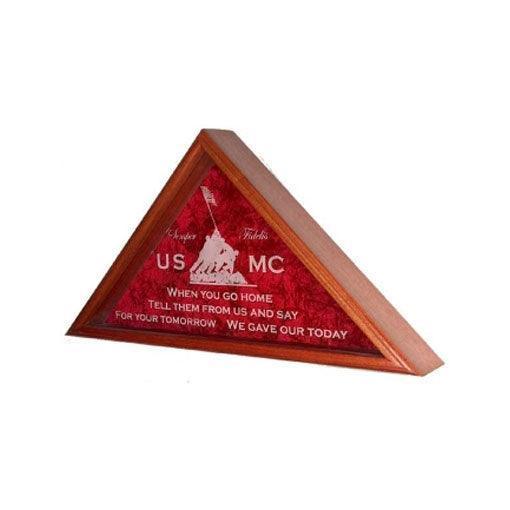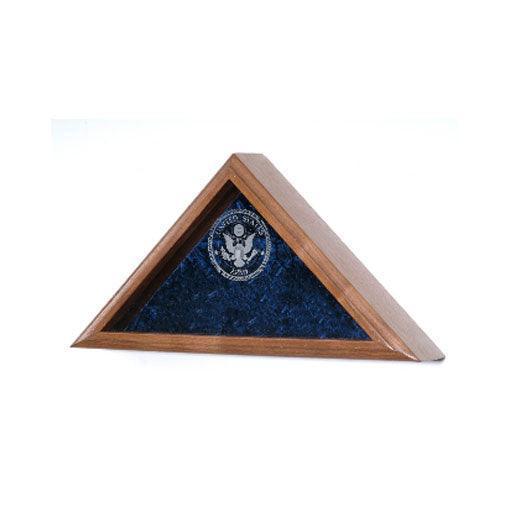 Large Flag Display Case
Triangle Flag case, Triangle flag Display case

Large Memorial Flag Cases display case shadow box
Triangle Flag Case
If you or someone you love has spent time serving your country, then this is the flag case you should have, bar none.  Our Engraved Service Emblem Flag Cases are exquisitely crafted in your choice of solid oak, walnut, cherry, or mahogany.  The double-strength glass front of the flag case is Laser Engraved with your choice of Service Emblem; Air Force, Army, Coast Guard, Marine Corps, or Navy.  The back panel of your flag display case is layered with crushed velvet, making this the preeminent flag display case available anywhere today.
Large enough to display coffin-sized flags.
Features:
Solid Oak, Walnut, Cherry, or Mahogany
Personalized Laser Engraving (optional)
Flag (optional)
Branch Specific Engraved Metal Plate (optional)
Double Strength Glass Panel
Crushed Velvet Background (blue)
Laminate Panel Back
Inside Dimensions: 23 3/4"W x 11 3/4"H
Accepts folded flags up to the 5ft x 9.5ft coffin/burial flag. 
Flag Case designed specifically for the Burial, or Casket Flag which, when unfolded measures 5 ft. x 9-1/2 ft. These Large Flag Cases will also beautifully display your 5 ft. x 8 ft. and 4 ft. x 6 ft. flags
Made in the USA !!
For Military Service Medallions in Solid Brass Click Here
 Orders for the Triangle Flag case, Triangle flag Display case are usually shipped out within one business day to places within the USA and Canada.
For instruction on "How to Fold a Flag to fit a Flag Display case" Click Here
Please see below what a few of our clients used as the text for the engraved nameplates!
All plates are laser engraved
And comes with gold lettering and a black background.
It is all done according to the military standard, with military fonts.
The nameplates will come with a double side tape, for your convenience – so you can easily attach it to any flag case.
All nameplates are shipped within the same day.